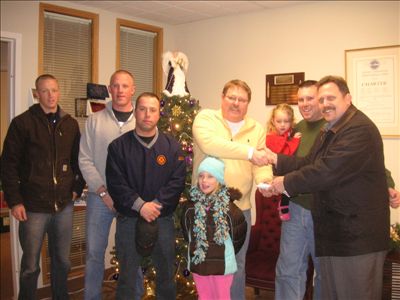 PFFNH President Lang along with PFFNH members present a check to SEA President Gary Smith for their Assistance for Members in Need program.
I want to thank all of the locals who stepped up and took action when we called for help. Thanks to your generous donations, we were able to significantly add to the amount of food the NH State Employees Union collected for their Holiday food drive, which benefits the families of NH public workers who have been laid off this year. Not only was the SEA surprised by our large response, but extremely thankful. Several hundred SEA members have seen layoff do to the lack of revenue in this state.
Because of your efforts the holidays this season may land a little softer for those laid off workers.
Once again, I am proud of the members and leadership of our locals, who extended help when our brothers and sisters needed help.
President Dave Lang